No hard feelings--I just think this logo does nothing for me. The colors don't work and the font is very difficult to read. Furthermore, the design has no relation to SEO or a forum. The one below comes from
seochat.com
. Great forum--poor design. Sorry guys.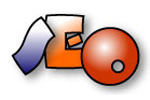 I'm also not a fan of Digital Point's logo (
forums.digitalpoint.com
). It's just something with these forums--their webmasters simply refuse to put time into half-decent design.
Though, something can still be said of these forums. They have lots of traffic. However, I still think few thousand dollars in design could do something for them--boost reputation, let professionals take them more seriously.